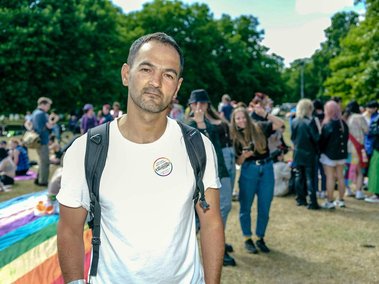 Biography
For decades I have been trying to integrate my two main interests; creating visual art and represent the life and interest of Roma people in Hungary. As a young adult, I worked as a local councilor and I also spent time painting pictures. Starting a career in journalism helped me to find an accommodating platform for my passion for visual and social representation. I was one of the founding members of Europe's first Roma radio, RadioC. After working for various radio stations and online newspapers, I started working for television as a news reporter and broadcaster. Alongside my journalist job, I have created a documentary mini-series which won the grand prize at the Faces of Poverty Film Festival in 2010.
As the far-right Orban government started its crackdown on the public broadcaster, it became increasingly hard to maintain my editorial freedom. I resigned in 2011 and moved to the UK. Starting life in a new country forced me to reconsider how I could create socially conscious visual art. I started educating myself in photography and after years of experimenting, I secured freelance positions in photo studios in London. In my free time, I could return to create photo-documentary series. I started various projects about immigration, Roma journalism, and minority representations. My recent work about a BLM protest in London was nominated in the professional photojournalism category at the Fine Art Photography Award 2021 and has been published in various magazines.
Ongoing project in the UK
Searching for Kushti - Switching Sides of the Lens
Start date: the 21st of January 2022
exhibited : 9th of April, 2022, Hasting UK,
Glastonbury festival 22-26 June 2022, UK
The project has received funding from the Art Grant of the National Lottery FundThis photography project is part of the program series celebrating the 50th anniversary of the publication of Rumer Godden's The Diddakoi; the first children book about Traveller existence in the UK.
The 'Switching Sides of the Lens' photography project aims to challenge traditional photographic representations of members of the Gypsy, Roma and Traveller communities. The project is centred around two Roma and Traveller photographers and their effort to reclaim the right to represent their own communities through the lens of the camera. The project also employs two established photographers to supervise the artistic development of the photographers.
Our current plan is to photograph some Traveller campsites and visit places important for Roma communities. We are also aiming to shadow a Traveller activist working on an ethnographic project. We will also use a caravan to travel to other campsites. As I am from a Roma background and the other photographer identifies herself as New Age Traveller, we would also create images of each other while travelling around in England in a caravan. The reason to document each other on this journey is to start thinking about aspects of the GRT identities and represent commonalities and differences between different GRT communities.
The overarching artistic ethos of the project is to develop a creative place where Roma and Traveller people could be the creators of their own photographic representation instead of just being the subject of some majority photographers.
Ongoing project in Hungary
Who are the gypsies?

Start date 20th of March 2022
Although almost ten percent of the population of Hungary belongs to the Roma ethnic group, their living standards and social status has always been significantly lower than the members of the majority population.
Racism against the Roma people is widespread and widely accepted in every segment of Hungarian society. This majority attitude is detrimental to the self-image and self-esteem of the Roma. There is a common belief amongst Roma people: 'You cannot and will never be as good at your life as a member of the majority Hungarian population.' This belief often works as a self-fulfilling prophecy and questions the meaning of Roma existence. The belief of 'Being no good for anything' has a destructive effect on succeeding or accepting success.
In my photo series, I would like to reflect on how this belief could harm individual careers and derail lives. The series would aim to present a detailed and intimate insight into Roma middle-class life where the drive for success and obstacles of minority existence is a constant struggle.


In Present
Freelancer photographer
Running a photography studio, freelancer documentary photographer
Fashion Photographer, London (UK)
2017 March -2021 March
Digital Fashion Photography LTD - London
Media Style LTD. London - Soho


Freelancer photographer, Oxford (UK)
2021 April - 2017 April

Portrait, fashion, events, documentary photography
MTV - Broadcaster, Budapest(HU)
September 2011 to January 2012
Hungarian National Television News Broadcaster - Budapest,
Hungary
Reading the news, Leading the staff, Editing the news.
News editor, News reporter


MTV, Budapest (HU)
January 2010 to December 2011
News - Budapest, Hungary
Interviewing, Cutting interviews, Leading the staff, Editing the news, Writing headlines.
Reporter
September 2008 to May 2011Interviewing, Cutting interviews, Leading the staff, Editing the news, Writing headlines.
Duna TV, Budapest (HU)
January 2008 to January 2011
Interviewing, Cutting interviews, Leading the staff, Editing the news,
Writing headlines.
News editor, News reporter
TV2 (MTM SBS CORP) 2007 Januar - 2008 Januar, Budapest (HU)
Interviewing, Cutting interviews, Leading the staff, Editing the news,
Writing headlines.
News editor, News reporter
Gazdasagi Radio, Budapest (HU)

2004 to 2008
News editor, News reporter, Announcer
Gazdasáagi Raádió
News editor, News reporter, Announcer


Radio C Ltd, Budapest (HU)

2000 to 2004
Interviewing, Radio-interviewing, Cutting radio-interviews, Writing
headlines, Making radio programmes.

Diploma (HU)
Independent Media Center
2001

GCSE (HU)
József Attila Secondary School
1996